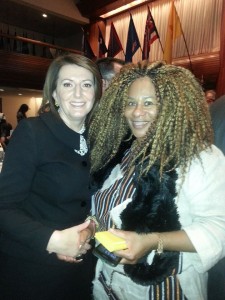 Atifete Jahjaga The fourth President of Kosovo. She is the first female President of the Republic of Kosovo, the first non-partisan candidate, and the youngest female head of state to be elected to the top office. She served as Deputy Director of the Kosovo Police, holding the rank of Major General, the most senior among women officers in Southeastern Europe.
President of the Republic of Kosovo, Mrs. Atifete Jahjaga, attended 
the ceremony marking the 25th anniversary of the Global Summit of Women, held in Washington, DC. On this occasion, she said that gender equality is very important for the general advancement of the society and on this context she mentioned the role played by the women in Kosovo in different periods that country has gone through. President Jahjaga emphasized the necessity of continuation of joint engagements in order to guarantee the equal rights of women and their full inclusiveness in all fields of life.